Are you a part of the non-European African Diaspora? Do you also enjoy foreign media? So perhaps you are a Whovian or belong to Griffyndor! No, you are not 'acting white' - you just have eclectic taste. Your preferences don't always assimilate to the offerings of your own nation. That's okay. For those who enjoy the dry humor of the British and those accents that are wide-ranging and colorful, there are options! If you like to consume media that stars or prominently features other Black people without an array of stereotypes hurled at you, you may have noticed that Britain has an inclusion and diversity problem as large as the one plaguing the entertainment industry in the United States. It is hard but not hopeless to find something just for you. I have compiled a list of TV shows and films recommended for the Black Anglophile.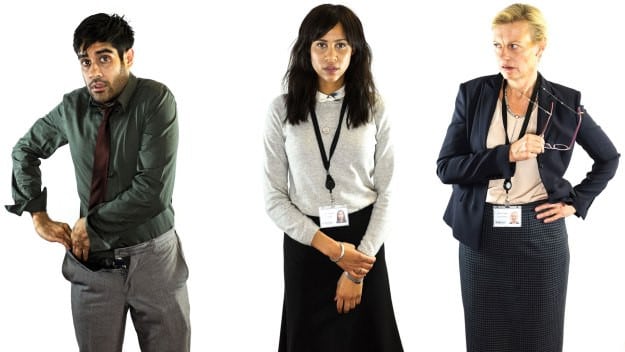 The Newbie
I recently discovered the series Not Safe for Work whilst reading an article. I soon found myself spending too much time trying to figure out how to change my IP address so I could watch the series on the Channel 4 website. Once I found a site, I binged-watched all six episodes of the workplace comedy/drama. Zawe Ashton stars as Katherine, a very put together bureaucrat whose life never got the notice. Her world is crumbling as she is demoted to a facility that is doing the same. Her coworkers also have demons that they deal with in perfect comedic timing and with equal parts angst. It is written by a white man but stars a Black woman: so it makes the list!

The Darling
Have you ever watched a British show with a Black lead? Who was a woman? And she was of darker hue? And there was another lead actor of Color, that also had dark skin? No? Some Girls aired on BBC3 nearly four years ago to much acclaim. Viva (Adelayo Adeyayo) is a straight-laced schoolgirl living on an estate with her father, brother and her soccer coach who doubles as her father's live-in girlfriend. She has an amazing group of friends: Amber, Holli, and Saz. They are coarse, frank and everything good in this world. Watch Some Girls if you love friendship and girl power. The show has three series and its current status is unknown.
The Standout
Sometimes the most unexpected thing can be exactly what you are looking for. Ackee and Saltfish is something that is inventive and completely necessary in today's climate. Black girls seem to be low on everyone's list and pigeonholed into certain stereotypes : - sassy, ghetto, angry and uncultured. Cecile Emeke must have not gotten the industry's memo. She wrote and directed a short film and webseries both titled
Ackee and Saltfish
. Her work centers on two dynamic Black characters that defy stereotypes at every turn. Olivia and Rachel are young women experiencing life in England and engaging in some pretty philosophical debates. It is lighthearted and fun, another testament to youth and friendship.
Star Vanessa Babirye recently alluded to a second season approaching on her Twitter
account.
The Oldie But Goodie
Love/Hate
Ruth Negga is the greatest thing that ever came out of Ireland. She is a talented actress of both television and stage and she stars in the first two seasons of
Love/Hate
. As the only person of color on this gritty Irish series, her performance and storyline are so striking that you can't pass it over. Negga's Rosie is the lost love of main character Darren. It is hard to believe such a great love story could develop in such a violent show. Check out
this scene
of the star-crossed lovers.
The Instant Classic
Beyond the Lights
I can find a way to work my favorite movie into any conversation. Beyond the Lights stars Gugu Mbatha-Raw as a mixed raced girl who emigrates from London to America to pursue fame. She is on the cusp of success when her mental state diminishes due to dehumanizing situations and soulless pursuits. Filmmaker Gina Prince-Bythewood tells an immigrant story, love story, and a journey to wellness story seamlessly. Now streaming on Netflix, iTunes and GooglePlay.
The Hidden Gem
This is a male-centered short film produced by actor Aml Ameen. It is housed on YouTube and depicts a night in the life of a likeable fellow who just wants the girl. It is full of hijinks and energy; the classic coming of age tale of a Black British teen you've probably never thought was out there.



H.R Belser is a freelance writer and quirk aficionado. Narratives about love and comedy are her favorites but she longs to see racial diversity in all media. If you are looking for her, she is currently working on her first web series or tweeting a zinger. Follow her on twitter @unicorinkk.