For the first time ever there is an inkling of the rise of millennial black women in media. It's our time ladies! We strike at dawn.
Black women in leading roles steadily increase in the realm of television and film; though these roles tend to go to actresses in there late thirties and early forties. 2016 has brought a refreshing presentation of younger actresses in significant roles.
80's babies and 90's kids really are vocal about their coming of age. These individuals are now writing and producing content that centers them and their childhoods. Recently, I was working on an article about popular middle names of Black women in my age group. Therein, I wanted to highlight each name with a celebrity example. The whole project made me realize that there were so few millennial black actresses who achieved mainstream success and I was deeply saddened. Where are the girls who used to write B2k fanfiction in their school notebooks before they knew what fanfiction was? Or the girls who used to make mix CDs with Amanda Perez and Chingy songs on them? Women who remember twerking at gym dances huddled in a corner because it was forbidden and not yet mainstream, where are you?
Television's offerings this year seem to bring the revival of black television after years of slim pickings. I know we're not suppose to say things like "black movies" or "black television" but Black best expresses the non-stereotypical roles and the fluidity of the black experience in this case. Leading the way are: Atlanta, Insecure, The Get Down, Pitch, Queen Sugar and Underground.
Some how, some way, Baz Lurman brought his 1970's period drama The Get Down to Netflix. New York's music scene is the star and setting of the show. Newcomer Herizen Gaurdiola stars as female lead to Justice Smith's Ezkiel. As Mylene, Guardiola illuminates the screen with grace and palatable energy. In reality, Herizen is natural hair goals and as zen a her name. Her father derived her name from the words Her and Zen.
Herizen Guardiola as Mylene in Baz Lurman's The Get Down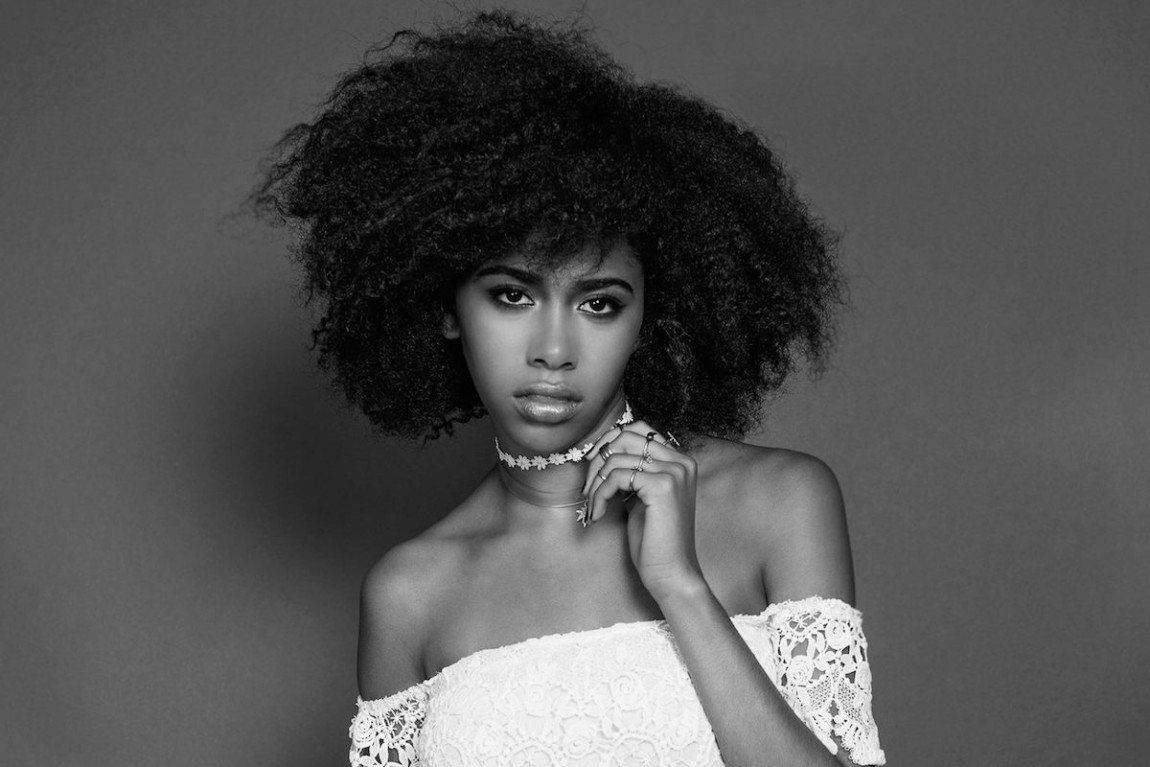 Herizen Gaurdiola
Donald Glover is the quintessential multi-hyphenate. The actor-rapper-comedian-screenwriter has added showrunner to his impressive resume. In his first starring role on television, he introduces us to Zazie Beetz, a New Yorker and professional actress.Up until now Beetz has lent her talents to indie films and theater. Now she plays the co-lead of Vanessa in a comedy with some very dramatic moments. Vanessa's character isn't fully fleshed out currently. But from her natural hair, zany style and exchanges with Earn, the viewer can get a sense of her soulful free-spirit as well as her no-nonsense attitude. Though her development is vague, I presume she might be a teacher but WE GET IT, the show is about the millennial male experience. That doesn't stop me from admiring a character that mirrors me in personality and style.Watching Zazie Beetz act evokes the feelings you have when hear the likes of Alice Smith or Solange sing. More leading roles for Zazie, please.
e
Zazie Beetz at the New York screening of FX's Atlanta.


Every time I see an article about Issa Rae it centers on how she mounted her career from a web series a few years ago. Now, Rae has just as many hyphens as Donald Glover and shows no signs of stopping. Issa is an author/producer/director/screenwriter/actress/singer first began airing her own productions on youtube. Her first television show will air on cable premium channel HBO and is the network's first series starring a Black woman! Co-stars include many of the creator's friends including: Yvonne Orji, Sujata Day, and Amanda Seales.
The Game
star, Jay Ellis, stars as her boyfriend. Watching Insecure come to fruition is like growing up with a girl, befriending her and watching her start her life, and bare her first child but among the black digital community. There is no way to verbalize this joy. I can't wait to watch this show. Unlike Atlanta, this show is totally about the millennial woman experience. It's amazing to finally have both stories on television.
Issa Rae in a still of her forthcoming HBO series "Insecure".
After six years of acting Kylie Bunbury has landed the headlining role of Ginny Baker in Fox's
Pitch
. The stunning 27 year old seems more than ready to take the lead. Pitch follows the first woman to play major league baseball. In the words of Joanne the Scammer, "Iconic."
Kylie Bunbury in an promotion for her new series Pitch.




At this year's The Television Critic Awards, Jurnee Smollet-Bell spoke on a panel and lamented about the trials of a young actress. "I could make a lot of money & have a resume 50 pages long if I took only 'the girlfriend'." She says. Sad but true. How many recent movies can you name with an African-American female lead? Young black women seem to be typecast as girlfriends to
athletic boyfriends or a white best friend's sidekick.
Smollet-Bell's current role of an escaped slave break all molds of what roles millennial black women traditionally endure. She stars on WGN's
Underground
. Rosalee is a dreamer who breaks free of bondage and finds true herself along the way. Romance is a key theme in the record-setting drama but the love between Aldis Hodge's Noah and Rosalee is not one-sided or male-centered. They are very much co-leads in this series. Jurnee's journey to a satisfying role is a win for every girl who came of age in the 90's, those of us who grew up with her being some of the only characters that resembled us. Waiting for the right roles has paid off for her and I know her star will only rise higher.

Jurnee Smollet-Bell as Underground's heroine Rosalee
Though we are only in the fledgling stage of our rise it can only grow from here. Here's to black women being more that girlfriends or black best friends! One day soon we will have a series about women that resembles us like Girlfriends, Half and Half and Living Single did for Generation X. My hopes are that representations coming defy the status quo of colorism and straight cisgender narratives as they stand in media. We will see! My favorite part of watching my contemporaries rise is taking note of the uniqueness of their names, there isn't an Anglo-Saxon name in the bunch. This is definitely a sign of the times.
H.R Belser is a freelance writer and quirk aficionado. Narratives about love and comedy are her favorites but she longs to see racial diversity in all media. If you are looking for her, she is currently working on her first web series or tweeting a zinger. Follow her on twitter @unicorinkk.